Ergonomics and Job Safety Analysis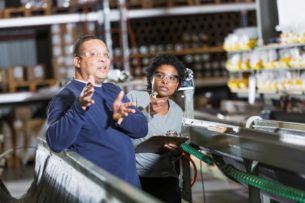 The U.S. Bureau of Labor Statistics reports an average of 650,000 work-related musculoskeletal disorders per year, resulting in direct costs to employers of over $20 billion. Injury from repetitive motion and overexertion are some of the costliest work-related injuries. According to the Textbook of Diagnostic Sonography published in 2017:
$1 of every $3 of workers' compensation costs is spent on occupational musculoskeletal disorders.
The average costs per case of musculoskeletal disorders is $8,070 versus an average cost of $4,075 per case for all types of work-related injury.
Indirect costs of ergonomic-related injuries are 3 to 5 times higher (estimated at $100 billion). These include absenteeism, staff replacement and retraining, productivity and/or quality.
United Heartland is committed to helping each of our customers keep their employees safe on the job through dedicated, expert loss control service. Ergonomics is one way to help keep workers safe. This science of fitting workplace conditions and job demands to the capabilities of employees is critical to maintaining a safe workplace and reducing injuries.
This phase of United Heartland's Manufacturing Loss Control Campaign looks at ergonomics and the benefits of job safety analysis. We encourage you to visit this page often and share it with others in your organization to review the resources we've provided, including:
An examination of the ergonomics assessment and improvement process.
How to create an ergonomics task force.
How to reduce injuries through job safety analysis
An examination of potential ergonomics-related injuries in the workplace.
Materials are available for download at the bottom of this page as well as an ergonomics video that shows proper ergonomics techniques for those who may work in an office setting or similar environment. We're glad to provide our Manufacturing Loss Control Campaign to our customers in the manufacturing industry and provide information to help them work safer.
As always, please contact your loss control representative with questions, or call us at 800-258-2667.
Share this resource:
---
URL coppied to clipboard.

Or send it directly to someone via our email form:
---
Manufacturing - Ergonomics and Job Safety Analysis Materials: