Injury Management Program Reduces Number of Indemnity Lost Time Cases by 19%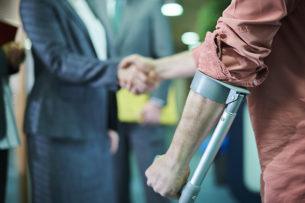 October 9, 2019
UH partner Appleton Area School District set a goal to reduce the frequency of indemnity claims in effort to help injured employees return to work in a light, transitional duty capacity and back to their normal day-to-day activities.
According to an article commissioned by the Workplace Safety Initiative, the longer a worker is off the job, the less likely he or she is to return. For example, an injured worker who has been absent from work for six months is 50 percent less likely to return, and after 12 months of absence, the probability of returning to work drops to 20 percent.
Returning to work after an injury affords several benefits to a worker — most importantly, rebuilding their livelihood and quality of life. Physical activity on the job also helps aid recovery, and the social support fostered through work relationships can ease anxiety and depression.
Between July 2018 and Aug. 2019, UH and the Appleton Area School District met eight times to develop a comprehensive Injury Management Program (IMP), also referred to as a Return to Work (RTW) program, and training plan. Together the teams streamlined a new standardized reporting process throughout the district. Here's how the teams worked together to achieve the district's goal:
Reviewed loss control service needs
Determined an action plan for implementing a formal injury management program
Performed a gap analysis of the employee injury reporting procedure using the UH Post Injury Management Kit
Identified areas of opportunity including the development of a formal written program and staff education
Provided training to the administrative staff on the contents of the new procedures, the importance of their role in the process and the benefits of the program including caring for the injured employees
Participated in an open claims meeting with the designated UH Claims representative to gauge program progress and adjust as necessary
Reviewed the workers' compensation program and initiatives with CFO
Conducted additional training on the program to school administrative staff
The partnership between the district, UH Loss Control and Claims teams and UH's agent partner led to impressive results including:
Improving the timeliness of claim reporting by 67%; from an average of 9 days to just 3 days
Reducing the average claim incurred loss costs by 81%; from $7,094 to $1,338 per claim
Reducing the number of indemnity lost time cases by 19%; from 20% of claims to just 1%
To help you understand how a comprehensive injury management program can improve your safety culture, help employees return to work and lower costs, contact your dedicated United Heartland loss control consultant to get started at 800-258-2667.
Share this resource:
---
URL coppied to clipboard.

Or send it directly to someone via our email form:
---