Injury Management Programs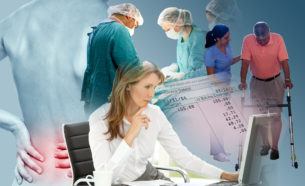 When it comes to an Injury Management Program, many organizations believe they already have an effective one in place. However, United Heartland Loss Control consultants often find that while customers have some aspects of a program in place, gaps can exist.
Eliminating these gaps and maintaining an effective program is critical to providing the best care for injured employees while helping to control claim costs. The benefits of an effective injury management program include:
Improved employee morale — employees identify with a culture that cares for its injured employees
Prompt and better care for injured employees
Accelerated healing time
Reduce lost work days
Lower workers' compensation costs
United Heartland is committed to helping educate organizations about how to review and improve their injury management program. The materials below examine:
Gaps that may be present in an organization's current injury management program.
Details on United Heartland's Injury Management Program evaluation and improvement process.
Strategies for making the case for transitional duty.
How the United Heartland Claims team helps customers and their injured employees by providing efficient and effective case management, superior medical management and cutting edge tools, such as our patented Care Analytics® platform.
We encourage you to bookmark this page and share it with others in your organization to review the resources we've provided on health and wellness issues. As always, please contact your loss control representative with questions, or call us at 800-258-2667.
Share this resource:
---
URL coppied to clipboard.

Or send it directly to someone via our email form:
---
Health Care - Injury Management Materials: