Machine Safeguarding, Lockout/Tagout and Electrical Safety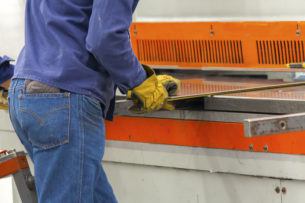 Manufacturing employees face a variety of risks in their daily work environment. Machines and their moving elements can cause injuries, such as amputations, burns, blindness or crushed body parts. Working with electricity can bring the risk of shocks, electrocution, fires and explosions.
Unfortunately, not everyone takes proper precautions when working with these materials. In fact, half of the top 10 list of standards cited by Federal OSHA for violations between October 2013 and September 2014 were related to machine guarding, lockout/tagout or electrical safety resulting in more than $10.7 million in penalties. The areas cited included:
Control of hazardous energy (lockout/tagout) – 1,284 citations (Ranked No. 2)
General requirements for all machines – 1,228 citations (No. 3)
Wiring methods, components and equipment for general use – 736 citations (No. 6)
Abrasive wheel machinery – 473 citations (No. 8)
Mechanical power-transmission apparatus – 456 citations (No. 9)
This is why it's so important for manufacturers and their employees to employ proper safeguarding practices, follow lockout/tagout procedures and take extra care when working with electrical sources. United Heartland is committed to helping our manufacturing customers keep their employees safe on the job through dedicated, expert loss control service and quality safety resources.
This phase of United Heartland's Manufacturing Loss Control Campaign looks at the importance of machine safeguarding, explains the process and benefits of lockout/tagout procedures and provides an outline for an electrical safety program. We encourage you to visit this page often and share it with others in your organization to review the downloadable resources we've provided below. We've also provided links to additional OSHA materials including:
We're pleased to assist our customers in the manufacturing industry and provide information to help them work safer. To learn more about our Manufacturing Loss Control Campaign, click here.
Share this resource:
---
URL coppied to clipboard.

Or send it directly to someone via our email form:
---
Machine Safeguarding, Lockout/Tagout and Electrical Safety Materials: