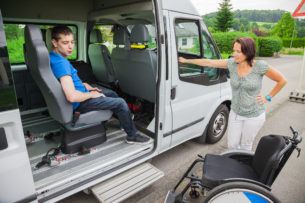 For some social service workers, driving a vehicle is a typical part of their work day. The type of driving done can include:
Transporting residents to and from locations for offsite trips, doctor's appointments or for rehabilitation
Taking children at day cares on field trips
Driving to multiple sites to conduct home or office visits
Transporting donated goods or items to warehouses or other locations
Additionally, the types of vehicles used can vary greatly – from personal vehicles and 15/16-passenger vans to vans outfitted with wheelchairs and mini buses. Any employee who drives as part of their daily job routine is at risk for vehicular injury, as well as the passengers they may be transporting.
Take for instance a recent incident near Hebron, Wis., where a bus that was transporting eight individuals to a community rehabilitation program ran off the road and struck a utility pole. All people in the vehicle were wearing seat belts, but one of the passengers died from her injuries three weeks later. The Daily Union reports that the driver admitted to investigators that he fell asleep at the wheel just prior to the crash. While the driver was part of a service used by the organization, if he had been an employee of the organization, the exposure to the company would have been significant.
Motor vehicle crashes are the leading cause of work-related deaths in the United States, according to the National Institute of Occupational Safety and Health (NIOSH). Between 2003 and 2014, 22,000 workers died in work-related motor vehicle crashes and in 2013 alone, such crashes cost U.S. employers $25 billion — $65,000 per non-fatal injury and $671,000 per death. Because of this potential human and economic impact, it's important that attention and training be provided to anyone who may get behind the wheel, even if it's only an incidental part of their job.
United Heartland is committed to helping our social service customers keep their employees safe on the job through dedicated, expert loss control service. Please bookmark this page and share it with others in your organization to review the resources we've provided on motor vehicle safety. Additional safe driving information can also be obtained through United Heartland's Road to Safety campaign. We're glad to assist our customers in this segment and help them work safer. For more information, please contact your loss control representative or call us at 800-258-2667.
Share this resource:
---
URL coppied to clipboard.

Or send it directly to someone via our email form:
---