Safe Client Transfer Assistance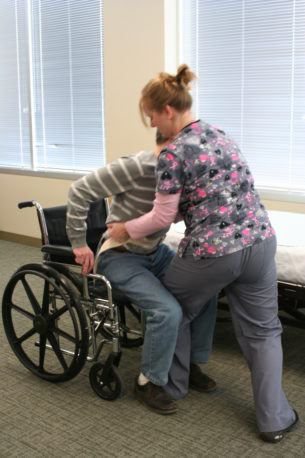 Employees in the social service and nonprofit industry who are tasked with assisting individuals in moving safely from one location to another face the challenge of doing so without bring injury to themselves. Similar to Safe Patient Handling and Mobility, safe client transfer and assistance is a top concern for those who provide assistance to:
Adults with physical challenges that impact their ability to move or walk freely.
Adults with developmental issues who may not be able to communicate clearly.
Individuals receiving physical rehabilitation.
Children in child care settings.
For 25 years, United Heartland has specialized in addressing the workers' compensation needs of our social service and nonprofit customers. Here are a few examples of how we've helped customers improve the safety of their client transfers:
Wesco Industries, a rehabilitation facility in Denison, Iowa, had been struggling with how to serve clients with gait issues. In one case, an ambulatory client weighing 300 pounds would frequently fall down during outings which resulted in staff members incurring multiple injuries when they tried to lift her back up. When told of the problem, a UH senior loss control specialist came back the next week and demonstrated use of the Mangar Camel, an inflatable device that brings a person to a seated position from the ground. Once seated, the individual is assisted to a standing position with a gait belt. The specialist explained that the demonstration helps customers clearly see the value of the device, stating: "We see many claims from customers who have staff lifting clients from the floor or ground. These claims cost many times more than the cost of the Mangar Camel."
Clay Adams, executive director of Wesco Industries, said the organization had six falls immediately before purchasing the device. "We had to do something do head off these types of injuries and the potential claim costs were too great to ignore," Adams said. "Once the Mangar Camel was purchased, the staff was easily trained and it is ready for use."
Midwest Opportunities, a care facility for individuals with intellectual disabilities in Creston, Iowa, was facing an increasingly difficult challenge in helping one of their clients with ambulation. Tami Snider, a site supervisor, having worked with one of our senior loss control consultants previously on another ambulation challenge, reached out to him for possible solution. After a meeting and an observation a week later, it was decided they would test out the Rifton Tram, a transfer and gait assistance lift. Once the device was on-site, the consultant returned and demonstrated transfer and ambulation techniques with the equipment to the Midwest Opportunities staff and it has now become a valuable tool in helping them safely help their clients move and transfer.
Adults aren't the only type of clients that can pose transfer challenges. At child care facilities or organizations with a focus on special needs children, the use of transfer and assisting equipment can often be overlooked. For one customer experiencing an increase in injuries from transferring children, one of our loss control experts organized a team that was tasked with implementing strategies that would improve safety, but not lose the personal touch that the organization was known for. She helped them develop a policy, including transfer assessment tools, and assisted with employee training. Following implementation, the new techniques and tools were embraced by staff and the families of the children served and it led to a decrease in injuries for both employees and young clients.
These examples show how valuable it can be for social service and nonprofit organizations with these types of exposures to have written transfer programs in place and to understand how transfer tools and equipment, though expensive, can protect organizations from much costlier claims in the future.
United Heartland is committed to helping each of our customers keep their employees safe on the job through dedicated, expert loss control service. We encourage you to bookmark this page and share it with others in your organization to review the resources we've provided on safe client transfer and assistance related to the social service and nonprofit industry. We're glad to assist our customers in this segment and help them work safer. For more information, please contact your loss control representative or call us at 800-258-2667.
Share this resource:
---
URL coppied to clipboard.

Or send it directly to someone via our email form:
---
Social Services - Safe Client Transfer and Assistance Materials: