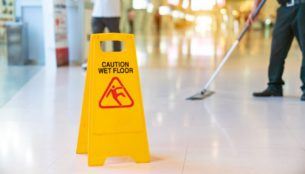 March 7, 2019
As we wrap-up our 2018 WalkSafe campaign, we wanted to take a moment to remind you that slips, trips and falls can happen at any time. In fact, they are a leading cause of injury across many industry segments, including health care, manufacturing and general office environments. Good housekeeping practices, routine facility inspections and preventative maintenance programs are effective ways to identify potential hazards and lower workers' compensation costs throughout the year.
Outdoors
Inspect entrance steps and sidewalks for cracks and uneven walking surfaces.
Examine parking lots for potholes and crumbled asphalt.
Set up temporary barricades and safety cones to mark unsafe areas until repairs can be completed.
Implement preventative maintenance programs and safety inspection checklists — remember to include areas where there has been a history of slip and fall incidents.
Ensure lighting systems covering parking lots are working properly.
Indoors
Pay special attention to interior walking surfaces, such as entrances, foyers, reception areas, hallways and stairwells — keep these surfaces clean and free of clutter.
Inspect high-traffic areas throughout the day to ensure surfaces are dry from tracked-in, outdoor moisture.
Have extra, dry floor mats on hand to replace those that have become saturated from snow, rain, etc.
Make sure floor mats are non-skid to reduce the potential for rolling up or slipping.
Set up clear signage to call attention to potential problem areas.
Since 2014, the folks at Sarah D. Culbertson Memorial Hospital have been proactive in keeping their staff safe from slips, trips and falls. Each year they engage their staff with fun activities to help their team remember the importance of slip/trip/fall prevention. This year they hosted a "banana split" ice cream event and created their own music video to the Vanilla Ice song "Ice, Ice Baby." Additionally, they share UH posters, table tents and other WalkSafe materials throughout the building. By hosting creative events and sharing useful information, the team at Culbertson Memorial Hospital has created memorable lessons helping their employees stay safe throughout the year. Keep up the great work, CMH!
Do you WalkSafe?
Tell us how your organization helps you WalkSafe and have your team featured in our 2019-2020 campaign! Click here
Share this resource:
---
URL coppied to clipboard.

Or send it directly to someone via our email form:
---