Slip, Trip and Fall Prevention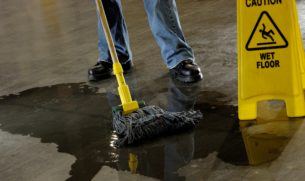 Together, slips, trips and falls (STF) are the second most common cause of lost-time injuries in the health care and social service industries. It's largely due to the fact that workers within these segments are often exposed to STF risks as they are providing services for patients and clients. Injuries are common in patient care areas (bathing areas and restrooms), food service areas/kitchens, entrances and parking lots. Employees traveling off-site to provide home health care services or visit residential treatment centers can also be exposed to outdoor hazards, such as rain, snow and ice.
Examining United Heartland losses from 2008 to 2012, STF claims were the second most frequently reported loss source and the average STF claim cost during this period was in excess of $10,000. That's why United Heartland has developed an STF assessment process to target the underlying causes of these loss drivers and develop strategies to reduce loss costs.
The materials below examine slip, trip and fall prevention, including:
Resources and best practices regarding STF exposures for health care, long-term care and social service organizations
Tips on handling STF exposures when working in home health care settings.
How proper floor maintenance can be instrumental in reducing STF risks.
We encourage you to bookmark this page and share it with others in your organization to review the resources we've provided on health and wellness issues. As always, please contact your loss control representative with questions, or call us at 800-258-2667.
Share this resource:
---
URL coppied to clipboard.

Or send it directly to someone via our email form:
---