Slip, Trip and Fall Prevention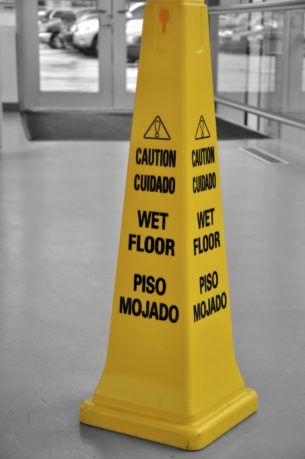 Those working in the social services fields can face a range of exposures that could lead to a slip, trip or fall. A child care teacher could slip on a spilled drink in a classroom or trip over a shoe or toy left out by a child. A home health aide could fall trying to assist a client down steps or through a tight space. A personal care aide could slip on a wet spot while assisting a client in or out of a shower. In fact, slips, trips and falls were the second most common cause of lost-time injuries in the social service and health care industries in 2014 and had a rate of 26.8 incidents per 10,000 employees.
At Starkey Inc., the oldest community-based nonprofit in Sedgwick County, Kan., which serves more than 500 people with intellectual disabilities in a variety of settings, Safety Coordinator Debra Butterfield contacted her UH loss control representative about dealing with client handling tasks at their local home settings, which can often be a source of slips and falls. The loss control representative provided information about the Rifton TRAM, a transfer and mobility device that can help to ambulate clients, assist with gait training, sit-to-stand transfers, and seated transfers. Butterfield reviewed the equipment and invited a local vendor, NuMotion, to demonstrate it to Starkey's internal staff. The vendor not only provided a demonstration but allowed Starkey to keep the lift for an extended period for testing with their client base. After review, the organization purchased four devices and recently bought a fifth lift to help ensure the safety of their clients and their workers because they understand that type of investment pays dividends down the road.
While the cost of such equipment may seem significant up front, when you consider the National Safety Council (NSC) estimates the average cost for a slip and fall injury is $28,000, after factoring in medical bills, physical therapy and missed wages, such a purchase can be easily justified as a sound investment.
United Heartland is committed to helping each of our customers keep their employees safe on the job through dedicated, expert loss control service. Please bookmark this page and share it with others in your organization to review the resources we've provided on slip, trip and fall prevention and don't forget to check out our WalkSafe campaign as the winter season arrives. We're glad to assist our customers in this segment and help them work safer. For more information, please contact your loss control representative or call us at 800-258-2667.
Share this resource:
---
URL coppied to clipboard.

Or send it directly to someone via our email form:
---