Teaming Up for Safety – District Greatly Reduces Experience Mod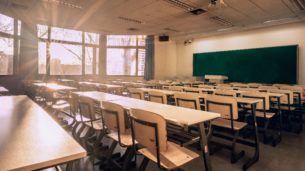 May 9, 2019
Since joining efforts with United Heartland (UH) in 2013, Wisconsin's Mount Horeb Area School District transformed their safety standards and vastly reduced their risk exposures. In just five years, their experience modification factor dropped from 1.22 to 0.63.
Mount Horeb's dedication to safety begins with their people.  Together, the district's Assistant Superintendent of Business and Finance Scott DeYoung and the entire Mount Horeb team have prioritized safety as a key component to their operations.  They encourage open communication and promote idea sharing for a safer work environment. Having resident safety experts on staff helps give the district an advantage for identifying risks and creating safe spaces and processes.
Annually, the district hosts a Building & Grounds Safety Meeting, inviting dialog and team building between buildings and grounds staff and United Heartland. The meeting focuses on key loss trend topics. Most recently, the meeting covered proper lifting techniques. During this session, UH conducted a short exercise which began by dividing meeting attendees into smaller focus groups to detail their most strenuous lifting tasks. Next, the team recongregated and discussed common exposures and possible solutions – the issue identified by several groups was the handling of heavy trash bins. Shortly after the meeting, the district implemented a piece of equipment to help lift and empty trash bins into the large dumpster outdoors. Sessions like this allow the district to continuously identify risk exposures and develop action plans to keep their employees safe.
And, in the unfortunate event when an injury occurs, Mount Horeb's return-to-work program, implemented in 2013, helps to ensure their team members are transitioned back to their daily routines as quickly as possible. This effort not only helps employees but positively impacts loss trends often associated with employee time off post-injury.
Are you interested in implementing a return-to-work program or hosting a safety meeting at your organization? Contact 800-258-2667 to reach your dedicated United Heartland loss control consultant and get started today!
Share this resource:
---
URL coppied to clipboard.

Or send it directly to someone via our email form:
---