WalkS.A.F.E. Winter Boot Breakdown
WalkS.A.F.E.
Winter Boot Breakdown
The right footwear is critical to preventing slip and fall accidents in the winter. Because of the unpredictable and often treacherous conditions the season can bring, footwear should provide as much stability as possible. Other important factors to keep in mind when it comes to footwear include comfort, thermal protection, slip resistance and usability.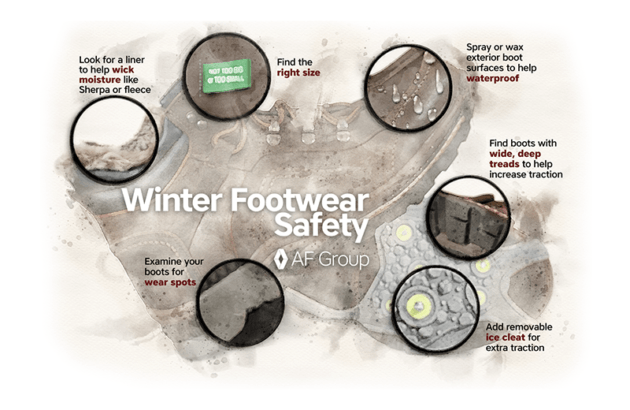 Six Tips for Winter Footwear Safety
The outsole of the shoe is the area that's in contact with the walking surface, and the depth and spread of the tread is important. Too closely-patterned treads or those with minimal depth will not allow liquids to be dispersed properly and may create a potential hydroplaning effect.
Periodically inspect shoe tread and replace shoes when significant wear is noted.
Find a shoe that fits: a boot that's too big can cause tripping hazards, but one that's too tight can cause circulation issues and increase the risk for frostbite.
Insulation matters — lining made with synthetic fibers to help keep warmth in and cold out is important. Look for materials such as neoprene, Sherpa or fleece.
Waterproof your boots with spray or wax, depending on the material of your footwear, to help keep moisture out and toes dry.
For extra tricky walking surfaces, like hard-packed snow or slick hills, consider using ice cleats over your shoes or boots for extra traction.
And lastly, consider changing out of boots and into dry footwear when after you enter your building to reduce the risk of a slip and fall.
A Step in the Right Direction
Orange City Area Health System (OCAHS) is one of the top critical access hospitals in the nation — and partner to United Heartland since 2014. In 2016, OCAHS implemented an extensive winter walking safety program that proved to be a success until the winter of 2018 when over a 3-day period, they experienced nine slip and falls on ice and snow. The team quickly identified a step was missing in their program and got to work redeveloping their plan. The original program included:
Ice melt in buckets at all exits
Ice alert flags
Painted penguin tracks indicating correct walking paths
"Shark-bite" in paint placed on rolling curbs
Two hospital-owned sand/salt trucks
The enhanced plan included everything from the original in addition to OCAHS branded portable salt shaker cups, which read: "Ice and Snow – Take it Slow," provided to all employees. The cups were so well received that OCAHS began providing them to guests and visitors too. All employees also received a refresher training on slip, trip and fall prevention.
Their program continues to evolve, and this year OCAHS provided ice cleat shoe covers to all home health, hospice and maintenance/ground keeping staff, as well as to any employee who requests a pair.
Utilize our campaign resources at UnitedHeartland.com/WalkSafe to help you stay safe this winter. For more information, contact your dedicated UH loss control consultant at 800-258-2667.
Share this resource:
---
URL coppied to clipboard.

Or send it directly to someone via our email form:
---