WalkSafe: Treacherous Travel – Tips for a Safe Journey
WalkSafe:
Treacherous Travel – Tips for a Safe Journey
Slushy, snowy weather doesn't always make for ideal driving situations.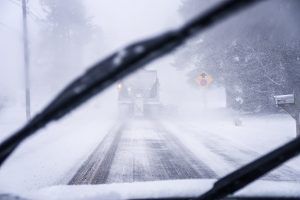 Employees traveling for business can find themselves facing precarious road/surface conditions during their commute and when they reach their destination. Blowing snow or passing vehicles can cause whiteout conditions, temporarily blinding motorists. For some, driving in winter conditions can be a downright stressful experience.
Remember these tips for safe driving in winter weather conditions:
Leave plenty of room between vehicles.
Keep your speed low and plan for extra time commuting.
Have your headlights on low beam.
Maintain quality windshield wipers and adequate wiper fluid.
Stay in the lane that has been cleared most recently.
Avoid abrupt actions.
Steer and brake gently.
Pass other vehicles only if absolutely necessary.
Always wear your seat belt!
And when you reach your destination:
Look for parking spots in snow-cleared areas away from drains, curbs and snowbanks.
Find a well-lit area to park.
Do not store items on the floor (purses or bags with long handles can cause tripping hazards).
Sprinkle salt/sand mixture on slick spots using a portable shaker bottle.
When exiting your vehicle:

Turn entire body toward open vehicle door.
Place both feet on the ground to test the surface.
Keep one hand on a steady surface such as the car door while standing up.

Don't carry too much, try to keep load(s) balanced.
While weather conditions that increase the slipperiness of outdoor surfaces can't be controlled, slips and falls can be avoided or reduced through careful attention to – and maintenance of – sidewalks, curbs and parking lots. Visit UnitedHeartland.com and view our resource library for more slip, trip and fall information. For more, contact your dedicated United Heartland loss control consultant.
Share this resource:
---
URL coppied to clipboard.

Or send it directly to someone via our email form:
---