WalkSafe: Watch Your Step!
March 2022
Watch Your Step!
In our last installment of our 2021-2022 WalkSafe campaign, we're sharing 10 final tips to help your team put their best foot forward by increasing their awareness about slip and fall prevention.
Follow these helpful hints:
Consider the surface: Plan to wear the best footwear for the surfaces you encounter daily. Shoes with too much friction can cause tripping, but not enough could cause slips.
Inspect floors/ground:  Indoor and outdoor surfaces that have become worn should be replaced or resurfaced, especially if they are in a pedestrian traffic area.
Clean it up: Clean up all spills immediately. Mop or sweep debris from floors.
Watch for transitions: Take extra care when walking from one flooring type to another.
Use it correctly: Follow ladder instructions and avoid creating makeshift stepstools or risers.
Don't leave it broken: Use signage to alert and block stairs or handrails that need repair – be sure to fix these areas immediately.
Check outdoor lighting: Report any exterior lighting issues to appropriate personnel.
Monitor sidewalks near entrances: Watch for water from roof and downspouts collecting and re-freezing in pedestrian traffic areas. Monitor and spread salt/sand, if needed.
Flat mats only!  Interior floor mats at entrances can help collect snow and water from footwear and help reduce slips, but mats with curled edges could become a trip hazard.
Prepare to fall: Educate your team on the best and worst ways to brace for a slip and fall — and of course the proper steps to reporting a workplace injury.
Visit the WalkSafe Campaign Page
Visit UnitedHeartland.com/WalkSafe for tips, resources and other slip, trip and fall prevention information. If you're looking to kick off your own STF campaign, our campaign page is a great place to get started!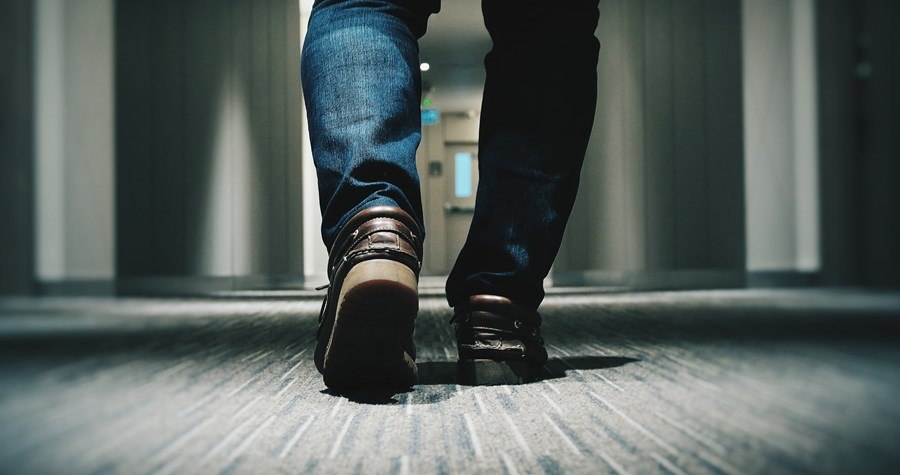 Share this resource:
---
URL coppied to clipboard.

Or send it directly to someone via our email form:
---