Success in Safety – Safe Patient Handling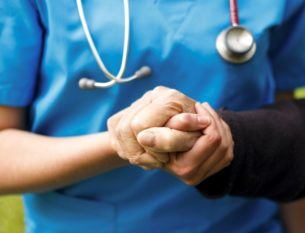 October 15, 2018
According to OSHA, health care employees who experience pain and fatigue may be less productive, less attentive, more susceptible to further injury and more likely to affect the health and safety of others. Combating this type of risk is why health care facilities, like UH partner Greene County Medical Center, have completed the necessary research to create safe, healthy environments.
Greene County Medical Center (GCMC) in Jefferson, Iowa, has been a valued partner for nearly five years. Between 2014 and 2015, GCMC recorded 11 patient handling-related injuries. They were ready to make a change, not just for their employees, but their patients too. UH and GCMC teamed up to perform a gap analysis comparing the center's current patient handling program against industry best practices and standards. The analysis helped GCMC understand their greatest risk points and formulate a plan to make changes. With the help of UH, GCMC provided new training and coaching standards, implemented new safety procedures and strengthened the overall patient handling program. Details included:
Developing criteria for patient transfer assessments
Conducting additional transfer observations
Coaching staff on challenging transfers
Reviewing and updating training program guides
Scheduling staff training on safe resident transfer techniques
Reviewing friction-reducing and patient-repositioning devices
UH conducted hands-on "train the trainer" sessions, and while using UH-developed competency checklists, helped trainers evaluate skills in their classes. United Heartland further supported GCMC by attending training sessions and providing further coaching.
Approximately one year later, Greene County Medical Center re-evaluated their safe patient handling program, training courses and assessment criteria. This type of quality assurance testing helped the team identify where enhancements were needed – like implementing further patient transfer assessments and observations and determining up-to-date criteria for all assessments.
Today, the successful program continues at GCMC. They perform mandatory training sessions for new employees and refresher courses for more seasoned staff. The results? A continuous decline in patient handling-related injuries, from 11 in 2014/2015 to four in 2016, three in 2017 and only one so far in 2018.
United Heartland is committed to helping each of our customers keep their employees safe on the job through dedicated, expert loss control service. Since we launched our Safe Patient Handling and Mobility program nearly a decade ago, customers have seen a more than 24% reduction in claims frequency per dollar of payroll — a figure that is statistically significant and extremely impactful.
For more information about Greene County Medical Center, visit: https://www.gcmchealth.com.
For more information about safe patient handling and mobility, visit our Safe Patient Handling and Mobility page.
Contact your loss control representative at 800-258-2667 to learn more about the United Heartland Safe Patient Handling and Mobility program.
Share this resource:
---
URL coppied to clipboard.

Or send it directly to someone via our email form:
---